Passing renter protection policies is an essential, common sense solution to keep people in their homes. As more and more residents organize to demand protection from housing exploitation, a growing number of localities–Mount Rainier, St. Paul, Kingston, Antioch, Pasadena, Santa Ana, Montgomery County– have passed voter initiatives and legislation to limit rent hikes. Local governments are continuing to lead the way in protecting tenants and normalizing stable rents in their communities. To support this, we have developed two new resources to help electeds and community members continue to advocate for strong rent stabilization policies.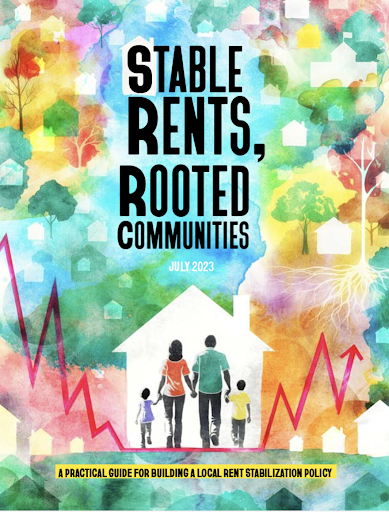 Local Progress Impact Lab and PowerSwitch Action have developed Stable Rents, Rooted Communities: A practical guide for building a local rent stabilization policy. This toolkit breaks down the key components of a rent stabilization policy so you can build a policy that  best meets the needs of your community.
From House to Home, Local Progress' new messaging guide provides a framework for how to discuss housing justice issues and rent stabilization based on polling, research, and messaging best practices from local electeds in our network. This introductory level guide provides sample messaging and talking points that can be used with constituents, media, and colleagues on renters rights and rent stabilization policies.
Are you moving a rent stabilization policy in your community? Have questions about any of these resources?  Feel free to reach out to us at dpennington@localprogress.org