As part of this year's Route Fifty Future Cities Summit, two Local Progress members participated in panel discussions exploring what the future of cities could look like with innovative, equitable policy making. 
Rochester City Council Vice President Mary Lupien participated in a panel discussion on public safety, and Philadelphia Councilmember Jamie Gauthier participated in a panel discussion on affordable housing. 
The Future Cities Summit is an annual, virtual summit run by Route Fifty – a national news outlet reporting news and analysis that impacts state, county, and local government leaders across the country. Route Fifty reports with a particular eye towards stories about innovative policy solutions at the state and local level, so the focus of this year's Future Cities event is reimagining the future of cities through this lens. 
The public safety panel discussion was moderated by Will Johnson, Director of Violence Reduction Initiatives at Equal Justice USA, and Mary was joined by co-panelist Lakeesha Eure, Director of Newark's Office of Violence Prevention and Trauma Recovery. The panel focused on innovative approaches to public safety – specifically, how leaders can go beyond simply preventing crime to actually reubuilding community engagement.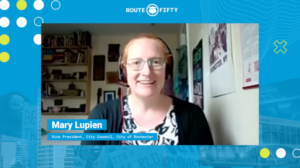 Grounding the conversation in a holistic vision of public safety, Mary highlighted her efforts to create community safety in Rochester, including piloting the Person in Crisis alternative response team to respond to mental health and substance abuse crises; divesting Rochester's city budget from policing and making investments in schools, housing, and youth services; and bringing the Advance Peacemaker Fellowship to Rochester – an innovative and successful program designed to transform the lives of those actively involved in violence. 
"True public safety comes when communities have what they need to thrive," she said. "That includes affordable housing, high-quality education, union jobs, food security, and health care." 
Mary also discussed her current efforts working with the community to expand alternative response programs beyond just mental health by creating legislation for a Community Public Safety Response Corps that would employ and train residents to respond to low-level community issues. This critical work grew out of a crisis – particularly spurred by the murder of Daniel Prude at the hands of Rochester police, which was hidden from the community for months. 
The affordable housing panel was moderated by Mary Ellen Wiederwohl, President and CEO of Accelerator for America. Jamie was joined by co-panelists Mayor Sam Liccardo of San Jose and Mayor Erin Mendenhall of Salt Lake City. The panel discussion focused on the housing affordability crisis – how city leaders are working to ensure their residents have access to quality and affordable housing, and what innovative solutions can be employed to create a more equitable housing market in the future. 
Jamie highlighted her efforts tackling gentrification, fighting eviction, providing rental assistance, and expanding affordable housing supply. In particular, Jamie discussed Philadelphia's model Eviction Diversion Program, which mandates mediation between tenants and landlords before landlords can file for eviction. The program has significantly reduced the number of evictions occurring in Philadelphia.
"Pre-pandemic, we had the 4th-highest eviction rates in the country, processing 22,000 per year," Jamie said. "With our program, we reduced the number of evictions by 75 percent."
Jamie also described the impact of her and Councilmember María Quiñones Sánchez's Mixed Income Neighborhoods Overlay Bill, which requires that 20 percent of units in any new, large housing development be affordable housing units. This is the first large-scale affordable housing requirement in Philadelphia's zoning code, and it's proved quite successful. 
"As a district councilmember in Philadelphia, my influence over zoning is my superpower," Jamie said. "I've used zoning in a way that expands affordable housing supply and incentivizes more equitable neighborhoods." 
Moving forward, Jamie said that if Philadelphia lives by the notion that housing is in fact a human right, she believes that they will be able to create real systemic change that addresses the wrongs of the past. 
"We must lead with justice," she said. 
For more information on innovative policy solutions to public safety and affordable housing issues that lead with justice, check out Local Progress' resources on public safety and housing. You can find all session recordings from the summit here.