Welcome back to the LPNY State Download – our quarterly newsletter! Here's a look at some of what LPNY has been up to the past few months – and what's been happening across the state!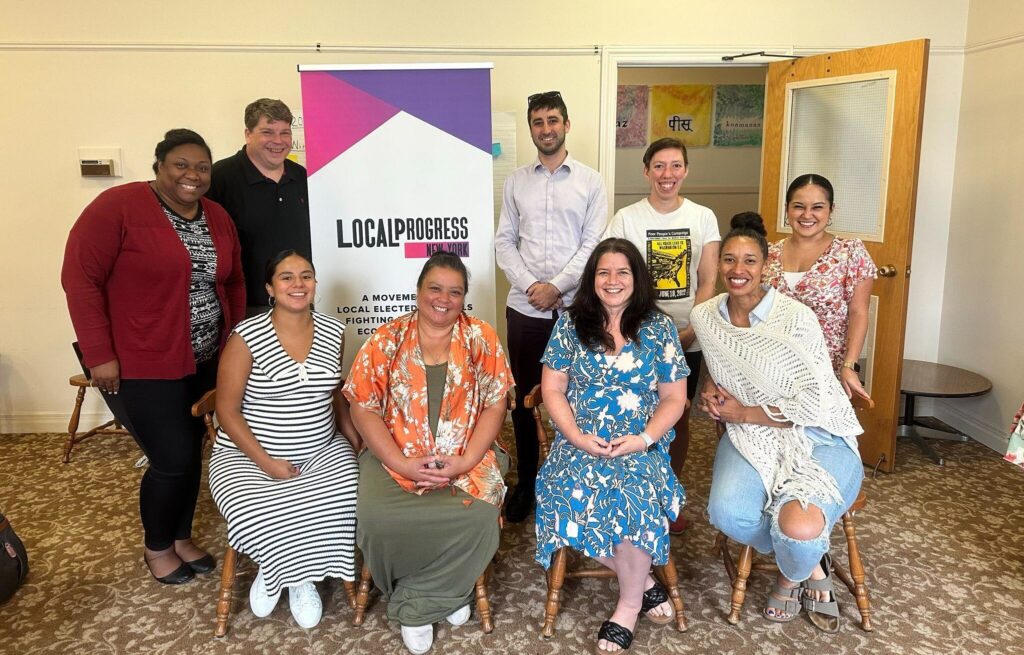 In August, LPNY's organizing committee came together for a full day meeting in Schenectady –  we welcomed our newest members, strategized for 2024 and celebrated our wins this year. We were joined by one of our state partners, Citizen Action NY who helped guide the conversation on where we are at the moment and how our members can continue to push at the local level. Our organizing committee left the space re-energized and committed to the work of movement building and leadership.  
📝 55 local elected officials across NYS call on legislature to pass New York For All
In June, LPNY joined the New York Immigration Coalition, and NYC Council Progressive Caucus to release a sign-on letter from 55 municipal, town, county and school district elected officials from all over New York State calling on the NYS Legislature to pass the New York For All Act before the end of the legislative session.
"I'm proud that New York City has strong sanctuary laws to ensure immigrants can live without fear of ICE and CBP in our City. But these are protections that immigrants throughout our state need and deserve," said Shahana Hanif, NYC Council Member, Immigration Committee Chair and Local Progress member. "With only a few days left in the legislative session and hundreds of asylum seekers being relocated upstate, it's time for Albany to pass the New York For All Act. Ensuring our immigrant neighbors are free from the terror of ICE and CBP is essential to ensure every city in our state is a welcoming sanctuary to our newest neighbors." 
Governor Hochul has not signed this bill yet and both elected officials and allies continue to advocate for immigrants in the state. 
🏡 Kingston votes to freeze rents for new leases at rent-controlled apartments
Kingston made big news when it became the first municipality outside of the original five counties to opt into the Emergency Tenant Protection Act (ETPA). Prior to 2019, only NYC, and communities in Nassau and Westchester Counties had the power to declare a housing emergency. The ETPA allows local communities to declare a housing emergency if less than 5 percent of the ETPA-eligible housing stock are vacant. A building is eligible for rent stabilization if the building was built prior to 1974 and has more than six units. 
This emergency declaration allows a Rent Guidelines Board to be established that has the power to establish rent increases for the locality.  At first, Kingston's board voted to give a 15% reduction in rent, but that was struck down by the Supreme Court, and is being fought at the appellate level currently. 
Despite the setback, the Kingston Rent Guidelines Board took action, and in June voted to freeze rents for one- and two-year leases at rent-controlled apartments beginning Oct. 1, 2023. This would cover 64 buildings with approximately 1,200 rental units in the city. Meanwhile, the New York City board ended up passing a rent increase of 3 percent for one-year leases and 2.75 percent rising to 3.2 percent for two-year leases.
For more information about how your community can opt into the ETPA, and are interested in learning more, please email me!

✊🏽 Join a LP Identity Caucus!
In the past two years, Local Progress has launched two identity-based community spaces: the Black Caucus and the Women's Caucus — with a third in progress: the Nuestro Caucus! These spaces were created by and for LP members to gather and share their lived experiences in governing and leadership positions. Our caucuses will have several opportunities for you to engage in this year, and the next opportunity for the Women's Caucus is coming up soon! Sign up now to attend the Women's Caucus general membership meeting on December 7th, 2023 here and the Black Caucus general membership meeting on December 14th, 2023 here.
✅ Apply to join our Organizing Committee!
A great way to get more involved with our work in New York is through our LPNY Organizing Committee! Our Committee meets once a month and works with LP staff and our community partners to set our state chapters priorities and define our mission and vision for our work. It's also a great space to build community with other LPNY members. If you're interested in learning more about this Committee, fill out this form!