With the legislative session ending in the coming weeks, I am encouraged by each and every one of our members that continues to meet the needs of our communities. This legislative session has been difficult with few wins, but you continue to show up every single day. This newsletter has some key updates and more information on how we can collectively organize.
💭 American Rescue Plan Strategy Meeting
In partnership with the NC Black Alliance, we are excited to announce our first NC ARPA Strategy Meeting on Friday, July 14, 2023 at the International Civil Rights Museum in Greensboro, NC. We are excited to convene local elected officials across the state to support the ideation and allocation of the remaining American Rescue Plan Act (ARPA) funding.
Registration is $15.00
💻 Webinar on Local Authority in North Carolina
As the legislative session comes to an end, we must recommit ourselves to the power we hold as local elected leaders and how we navigate abusive state interference in North Carolina.
Join us next month, on July 11 from 4:30 PM – 5:30 PM for a webinar on preemption and local authority in North Carolina. We will have engaging speakers that will define how state interference affects your work on the local level. You don't want to miss this!
Join this webinar to learn more.
🤝 NC People's Power Coalition
Local Progress North Carolina is committed to the mission and platform of the NC People's Power Coalition. The coalition is made up of justice and advocacy organizations from across the state. We have signed on to support the coalition's agenda which includes the following:
Investing in Our Children
Funding Health Care
Keeping Bans Off Our Bodies
Defending Our Rights & Democracy
Creating an Economy for All
Uprooting Racism
Protecting Our Future
Join us for the People's Power Assembly in Asheville, NC on July 1st for a Statewide Day of Action. Follow the link below to sign up to be a part of the Local Progress North Carolina delegation! Location will be sent to those who sign up.

📜 North Carolina Abortion Ban
On May 16, 2023, the North Carolina General Assembly enacted Senate Bill 20 to ban abortions after twelve weeks of pregnancy. Local Progress North Carolina is outraged and will do everything in our power at the local level to support child bearing people who seek abortions.
The Local Progress North Carolina Organizing Committee is considering all of its options in response to the law and will update the network with a clear plan of action.
In the meantime please review the following memo shared previously regarding local policymaking options to protect people seeking abortions here.
📣 Local Progress National Convening
You don't want to miss this year's National Convening in St. Louis! There are only a few spots left! Our early bird discount period is over but LP members and alumni leaders can still get a $50 discount now through June 30. Tickets will be full price starting July 1!
✊ Local Progress Caucuses
Local Progress organizes caucuses for members to do work together within shared identities. Caucuses are a safe space for community building, organizing, and collective healing. 
Here's what the Black Caucus has been up to:
May Local Progress Black Caucus Meeting: As the South Goes, So Does the Nation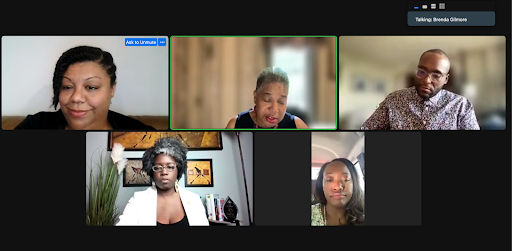 Representative Dr. Jasmine Clark from Georgia, Former Senator Brenda Gilmore from Tennessee, Senator Shevrin Jones from Florida, and Senator Natalie Murdock from North Carolina joined our call as panelists to talk about their work in their state legislatures and how it compared to their time in office at the local level, abusive state interference, and what support current local elected officials can lend to their legislative allies. They all stressed the importance of not suffering in silence, supporting each other and being a sounding board for each other. In the words of Senator Shevrin Jones, "ain't nobody coming to save us. We gotta save ourselves".
Caucuses meet regularly to set a shared agenda, organize community spaces and activities, and identify specific needs to support elected officials in their governing and leadership positions. If you are interested in building a new caucus, please fill out our form here.

We are excited to  announce our newest Organizing Committee members! Join me in giving a warm welcome to Nida Allam and Mario Benavente!
Commissioner Nida Allam, Durham County Commission
Durham County Commissioner Nida Allam is the first Muslim woman ever elected to public office in North Carolina. The daughter of Indian and Pakistani immigrants, Nida grew up in Wake County. In addition to serving as Durham County Commissioner, she also served in senior leadership in the NC Democratic Party and as chair of the Durham Mayor's Council for Women.
As Durham County Commissioner, Nida voted to raise the minimum wage for county employees to $15 per hour and led the charge to provide property tax relief for low-income Durhamites.
Nida lives in Durham with her husband, her daughter, and two adorable dogs, Otis and Nala.
Councilmember Mario Benavente, Fayetteville City Council
Fayetteville City Councilmember Mario Benavente is a community leader and activist in Fayetteville, NC. As the son of a US Army Veteran, he is also a first-generation US American.
While in office, he is focusing on addressing public safety by prioritizing community healing, restorative justice practices, and independent police oversight; economic investment and support for college graduates, entrepreneurs, and young families to recruit and retain next-generation talent; and socioeconomic equality in Fayetteville. His overall goals for the municipality are to eliminate food deserts, prevent gentrification, ensure the availability of affordable housing, oversee responsible development of the Murchison Road Corridor, and improve economic mobility in Fayetteville. He strongly believes economic development ought to benefit the established community and not destroy it.

Share our network with your colleagues, we are excited to recruit new members across every region of the state! Recruitment Link
We also have letter templates for partners here! Be sure to make a copy of the document before you edit.