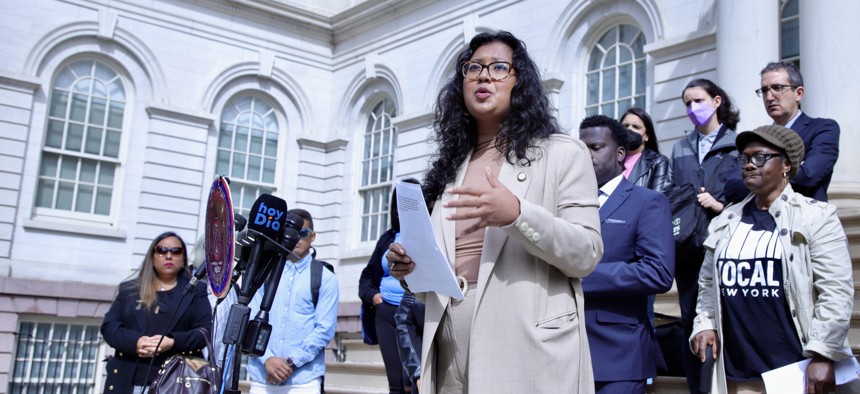 All human beings have inherent dignity and the right to seek safety. Every day, adults, children, and families are making treacherous journeys across borders in search of a better future – in many cases as a matter of life and death. And every day, communities across the country are stepping up and choosing welcome – volunteering their time, skills, and care to welcome people in search of a better life with dignity. These local leaders, advocates, and community members are showing us a path forward that is rooted in respect and community, and offering us a roadmap to reflect nationally.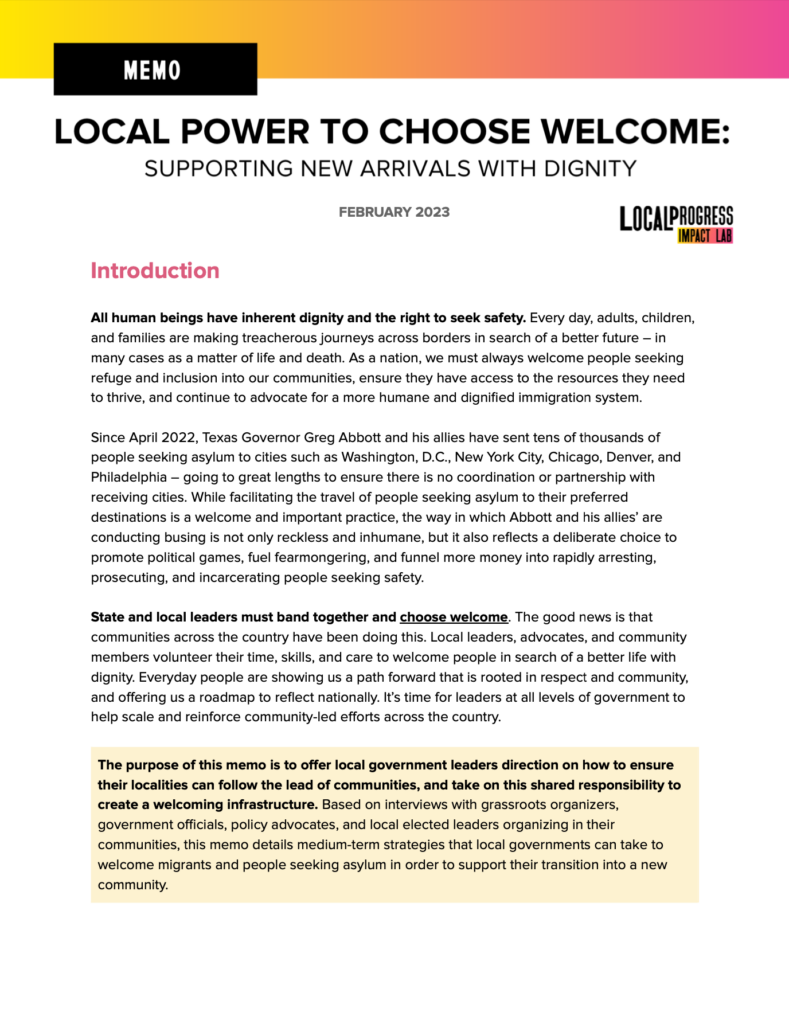 Our newly released resource aims to chronicle this roadmap – offering direction for local electeds to follow the lead of communities, and take on this shared responsibility to create a welcoming infrastructure: Local Power to Choose Welcome: Supporting New Arrivals with Dignity.
Informed by interviews with grassroots organizers, government officials, policy advocates, and local elected leaders organizing in their communities, this memo details medium-term strategies that local governments can take to welcome migrants and people seeking asylum to support their transition into a new community. Specifically, it includes:
Concrete policy and programmatic recommendations local electeds can advance
Insight on how to coordinate between different levels of government, nonprofit groups, and volunteers
Guidance for identifying and leveraging sources of funding
Recommendations for connecting new arrivals with and strengthening government resources
We know there is no one-size-fits-all solution, and that local context will ultimately inform the solutions and steps a locality takes. That's why this memo aims to provide a roadmap for the conversations and strategies local leaders should pursue, rooted in an abundance framework and a sense of community building. 
As a nation, we must always welcome people seeking refuge and inclusion into our communities, ensure they have access to the resources they need to thrive, and continue to advocate for a more humane and dignified immigration system. With communities leading the way, it's time for state and local leaders to band together behind them and choose welcome. 
For more information on how local elected officials can advance immigrant justice, check out the Local Progress Impact Lab resource library.
Cover photo courtesy of City & State NY / Sahalie Donaldson.