Here's a look back and look forward at some of what's happening around the network.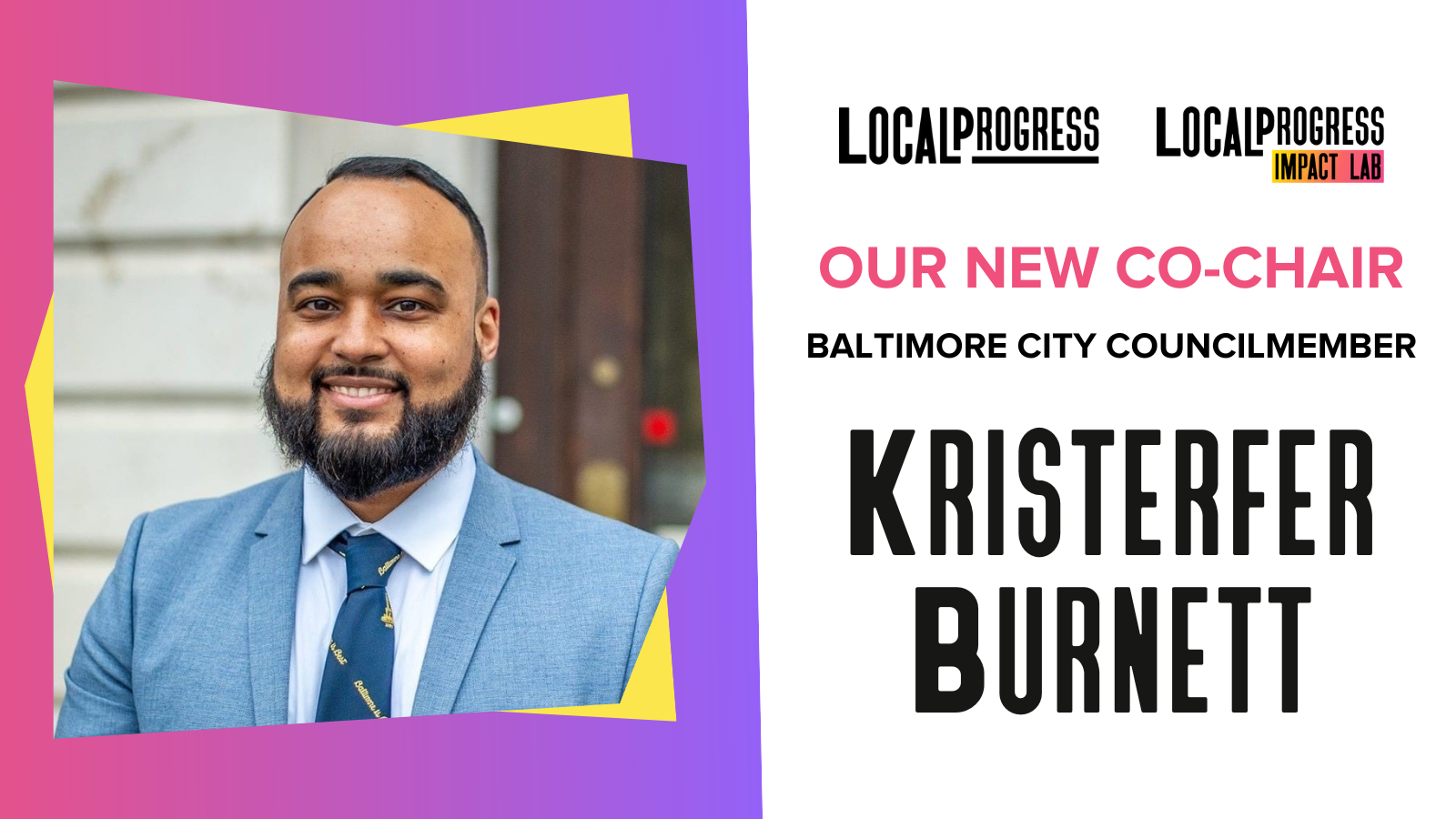 2022 continues to be a special anniversary year for us. We celebrated 10 years as an organization, we welcomed new Board co-chair Jillian Johnson, and earlier this week we announced another new co-chair: Baltimore City Councilmember Kristerfer Burnett! Kris steps into the role after serving on the Baltimore City Council since 2016 and on our board for 4 years. He is a champion of racial and economic justice, having led the fight for public financing of elections, co-authored the "Live To Be-More" public safety plan, and helped leverage $20 million toward affordable housing options. As part of Local Progress, Kris has demonstrated an extraordinary commitment to helping people build knowledge, skills and capacity through his role as a trainer in the Progressive Governance Academy where he's trained and mentored hundreds of newly elected officials across the country. We couldn't be more thrilled to welcome him into his new role as co-chair. Read more →
Local Electeds Convene in Portland to Learn About Community Responder Programs
Earlier this month, Local Progress brought together two dozen local elected officials in Portland to learn about how Portland Street Response (PSR) sends care workers to certain 911 calls involving mental health or behavioral health crises. Commissioner Jo Ann Hardesty has long been a champion of this non-police community responder program, and hosted this two-day in-depth look into the details of the program. And just last week, Antioch, CA just approved a two year pilot for their own community crisis intervention program using ARPA funds, a multi-year effort led by Councilmember Monica Wilson. For localities who are interested in creating their own community responder program, Local Progress recently put together a new tool exploring the complexities of these programs. Read more about Portland here →
Local Progress Texas Chapter Manager Witnesses Dehumanizing Border Treatment
Earlier this month, Local Progress Texas Chapter Manager Kara Sheehan spent two days at the Texas-Mexico border to witness Operation Lone Star (OLS) firsthand. OLS is Governor Abbott's multi-billion dollar Texas law enforcement operation to criminally prosecute and rapidly deport immigrants by targeting suspected migrants for arrest, prosecution, and incarceration on low-level state misdemeanor offenses. Since OLS began in March of 2021, there have been over 233,000 arrests of people seeking safety and family reunification. During the witness delegation, Kara had the opportunity to hear directly from people who had been targeted through OLS and observe law enforcements' interactions with communities along the Texas-Mexico border. Read more about Kara's experience here →
Localities Pass Voting Rights for Noncitizens
Earlier this month, Washington DC passed legislation that would expand voting rights in the city, including allowing noncitizens to vote in local elections. The city joins neighboring localities Takoma Park and Hyattsville, and seven other cities in Maryland in adopting local voting rights for noncitizens. New York City also recently passed noncitizen voting, but a State Supreme Court justice overturned it earlier this year. In addition to the noncitizen voting rights bill, DC also passed a bill to make mail-in voting a permanent feature of elections, institutionalizing the response that evolved out of the early pandemic. Read more about DC here →
🗳 LP Women's Caucus Elects Co-Chairs
This year, we've continued our work to create space for self-identifying members to gather and share their lived experiences in governing by creating our second identity-based caucus, the Women's Caucus! The Women's Caucus is open to both current and former LP members who identify as a woman, who identify as a combination of genders, or who do not subscribe to a gender binary and feel that this space could serve them. At our national convening in Denver, the Women's Caucus solidified their Leadership Committee, and we're pleased to announce that the Committee recently elected two co-chairs: Johana Bencomo (Las Cruces City Councilor) and Sherri Jones (Florence Unified School District Governing School Board Vice-President).
📑 Brookings Institute's Report on Racial Equity Assessment Tools
Following the murder of George Floyd and the racial justice protests of 2020, localities across the country dedicated themselves to advancing racial equity. Advocates called on governments of all levels to begin incorporating assessments of policies based on their racial equity impact. The Brookings Institute recently released a report examining the racial equity impact assessment tools that have emerged since then at the federal, state, and local level. The report examines the strategic questions that go into developing these tools, the history of racial equity assessments, the core functions of these tools, and challenges that localities may face. Building on the pioneering work of advocates, "local efforts to promote equity and change government decisionmaking practices intensified significantly over the past two years, particularly in the wake of 2020's protests." 
💻 Webinar on Local Governments Advancing Workers' Rights
Earlier this month, the Local Progress Impact Lab and the Harvard Labor and Worklife Program convened Local Progress members and unions to discuss how to build worker power at the local level during their webinar "Laboratories of Experimentation: Local Governments at the Forefront of Advancing Workers' Rights." In the webinar, speakers touched on the importance of collaborative governance and coalition building between workers and local electeds as key to advancing workers' rights policies at the local level. Speakers included Boston Mayor Michelle Wu, SEIU 32BJ General Counsel Katchen Locke, Local Progress Policy & Legal Director LiJia Gong, Harvard Labor & Worklife Program and Economic Policy Institute Director of the State & Local Enforcement Project Terri Gerstein, Durham Councilmember Jillian Johnson, New York City Council Comptroller Brad Lander, and Seattle Councilmember Teresa Mosqueda.

Read more and view a recording of the webinar here →