2022 has been an exciting year for Local Progress and today marks yet another milestone in our growth. I'm thrilled to officially announce that Baltimore City Councilmember Kristerfer Burnett will serve as LP's new Board Co-Chair!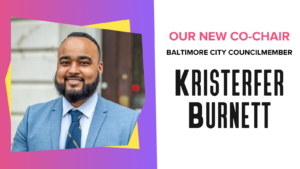 As a proud Baltimorean and having had the opportunity to work closely with Kris in developing so many crucial new bodies of work at LP, I've seen first hand the impact of his leadership. Kris is the consummate organizer. Whether he is building a local coalition around a legislative issue, educating community members about how to engage in the budget process, or helping launch a new project at LP, Kris is always working to find ways to bring people into agency and power and towards a common purpose. In a profession characterized by ego and competition, Kris works with refreshing (and I often reflect, bordering on pathological!) humility and a laser focus on doing the work to bring us together to accomplish something bigger.
Since his election in 2016 Kris has been a champion of racial and economic justice in Baltimore, helping lead the way for collective action across the LP network. He has led the fight for public financing of elections, co-authored the "Live To Be-More" public safety plan, and helped leverage $20 million toward affordable housing options. He has trained and mentored hundreds of newly elected officials across the country through the Progressive Governance Academy, developing the leadership and governance skills they need to be powerful and effective leaders. He also serves on LP's Black Caucus leadership committee, supporting the strategic vision and organizing efforts of the identity caucus.
With both Jillian & Kris at the helm, it is also the first time that our network has been led by two Black electeds. We couldn't be prouder of this historic moment as we ensure our network reflects the multi-racial democracy we're fighting for.
It's safe to say that I am so excited about the future of our network. 
Looking forward to sharing more soon. 
In solidarity, 
Sarah Johnson, Executive Director