We wrote at the time that Reform/Transform was not focused on addressing the structural challenges of over-policing and criminalization. With a clear focus on harm reduction, it does not include as many resources about how to advance an affirmative, community-centric, and evidence-based vision of what community safety looks like.
We at Local Progress believe the path to creating safety requires us to both reduce harm, fight against mass incarceration and criminalization, and invest in a community-based vision of safety. And as we talk and strategize with people all over the country, we see how, in communities of all types and sizes, efforts to invest in that vision are underway. To name just a few:
In Denver, the city's Support Team Assisted Response (STAR) program that sends civilian-led emergency response to certain 911 calls is being expanded citywide after answering thousands of calls without the need for police involvement.
Likewise, Portland Street Response in Oregon has quadrupled the program's footprint to expand its response services citywide. You can read a history of the program here.
In Brooklyn Center, MN, the city has formed a resident-led committee to implement the transformative provisions of its landmark Daunte Wright and Kobe Dimock-Heisler Community Safety and Violence Prevention Act.
As we draw inspiration and lessons learned from these efforts, I wanted to take this opportunity to share with you a rundown of LP's public safety work and where it is headed.
Introducing LP's steering committee to guide our safety work
Late last year, we launched a public safety steering committee made up of elected officials to advise and shape the organization's work on public safety. As a membership organization, we believe our work is more impactful when it is informed and guided by members. This committee on public safety is the first standing committee of several that will be created over the ensuing months. We are proud to share that the following people make up the public safety steering committee:
If you are interested in being part of the public safety committee or otherwise getting more involved in our public safety work, please get in touch!
New resources coming your way!
I mentioned that LP's work on public safety is deeply focused on how to advance a community-based and public health-oriented vision of safety. Part of this effort is a recognition that in order for local governments to work hand-in-hand with communities to build a new vision of safety, we need the tools to demonstrate what that looks like, what it sounds like, what it feels like. That's why we have a number of resources coming soon that we hope will be of service to that end.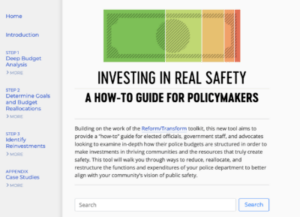 🔍📊 📈 Investing in Real Safety: A How-To Guide for Policymakers is a new budget analysis microsite meant to supplement Reform/Transform's comparative budgeting tool with in-depth guidance on how to examine how police budgets are structured and how to make investments in the resources that truly create safety. Designed as a Wikipedia-esque tool, the site will walk a user through how to disaggregate all the functions and scope of work performed by police, in order to evaluate all the possible avenues for shrinking the power, budget, and footprint of policing. Timeline: live and out now!
🎙️📝 📣 Let's Talk Real Safety is a new messaging guide from Local Progress coming soon in early May! This messaging guide will provide LP members and staff with shared language around
community safety. It is grounded in the latest research, polling, and nationally-tested messaging, and it will serve as a living document and will be updated regularly as circumstances change and new resources emerge. Timeline: coming soon in early May!
⚖️ 🏥 ☎️ Policy resources on a) community response and b) violence prevention are in development and slated for release later this year. Dozens of localities are moving to establish emergency response systems to respond to the many crisis situations that are better served with a care worker than an armed officer. Similarly, there exist proven community-based strategies and programs to prevent violence by treating it from a public health perspective. While these approaches run the gamut from government-overseen programs to informal community-based ones, local governments hold the power and responsibility to develop these community safety strategies. LP's coming resources will detail how local governments can structure and implement these programs. Timeline: coming later on in 2022.
On all this work and more, we hope to get your input and your participation! And with the National Convening fast approaching in Denver this August 4-6, we can't wait to see you in person to reflect, learn, and plan for the work ahead.