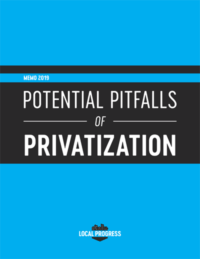 We know that you often find yourself struggling to generate revenue, balance budgets, and defend much-needed investments. This resource guide is designed to help you get ahead of privatization attempts, put in transparency, accountability, and responsible contracting guidelines, and ask the hard questions before decisions are made and contracts are finalized.
Below are brief summaries of the memos included in this new resource.
Why You Should be Wary of Privatization: Despite the benefits touted by supporters of privatization, there are a number of frequent negative impacts that deserve careful analysis and consideration, including the loss of democratic control, little or no cost savings, reduced service quality, loss of middle-class jobs, and loss of accountability and transparency. This memo describes these impacts and details how policymakers can confront proposals for privatization.
Charter Schools: This memo describes common issues with charter schools, including problems around transparency, accountability, performance, segregation, costs incurred by traditional public schools districts, and much more.
Infrastructure: This memo gives an overview of the privatization of infrastructure, often referred to as public-private partnerships or P3s and describes early warning signs of potential infrastructure privatization proposals, outlines basic steps that policymakers can take to increase their understanding and leverage to intervene in these deals. We included a list of detailed questions to ask when confronted with a P3 proposal as well.
Public Services: This memo describes the types of public services that may be targets of privatization, describes these common problems in greater detail, and includes questions for policymakers to ask to help frame the debate and reveal the inherent problems in these types of deals.
We know that each locality will face unique conditions and circumstances when it comes to the why and how of privatization attempts. The long-term ramifications of these schemes to insert private interests into public goods can be devastating for local governments. Often by the time a deal reaches the city council, it can be too late to make changes. The more you know and the more analysis you do at the outset, the better prepared you are to shape the process and outcome.
We invite Local Progress members to schedule an individual consultation with our staff and you can find our full privatization memo here.